Our Team's Favorite 4 Dance Studios Near Carmel, NY
The hamlet of Carmel, New York, is an excellent place for you or your kids to learn more about dance. And there are many notable dance studios in the area ready to take your moves to the next level.
Let's look at what they teach, who they instruct most, and what their prices are like.
The Seven Star School of Performing Arts
The Seven Star School of Performing Arts is only about 15 minutes away in Brewster. It's been training and inspiring new dancers since 2001, with its experienced faculty members teaching dance, acting, and voice classes. The atmosphere is wholesome and fun, and the studio focuses on building self-esteem and dance skills.
Each class is tailored to the capabilities and tastes of its students. The Diaper Dancers class is for 2-year-olds and designed to build musical awareness, coordination, and a love of dancing. The Broadway Babies and Pre-Dance classes are for 3- and 4-year-olds. Broadway Babies expands on Diaper Dancers by adding singing and acting to the curriculum. Pre-Dance teaches these kids early ballet, tumbling, and tap skills.
The Hip Hop class is for kids from 3 to 6 and focuses on enhancing coordination and rhythm through trendy musical expression. Kids 5 to 6 years old can take the Broadway Stars class. It builds on Broadway Babies, with courses lasting for two hours. They include drama, singing, acting, ballet, and tap dancing.
Also, 5- and 6-year-olds can also take more advanced hip hop, musical theater, and break dancing classes. Kids from 7 to 9 can take their first full-fledged ballet courses and learn about officially recognized body flow patterns, formalized steps, and emotional expression through movement.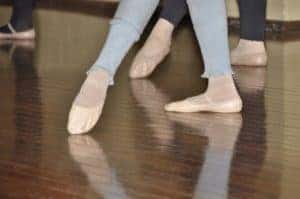 Other 7- to 9-year-olds include hip-hop, break dancing, musical theater, tap, jazz, and lyrical dancing. Voice coaching and stage acting courses are available as well. From 10 to 18 can take more advanced versions of the same classes. Sessions for younger kids happen earlier in the day, and courses for older people later. The Seven Star School of Performing Arts opens from 10 a.m. to 9:30 p.m. on weekdays but closes at 2 p.m. on weekends. Fully catered birthday parties with entertainment, decorations, and party games start at $350.
Happy Feet Dance School
If you prefer a more personalized dancing education experience for your child, consider Happy Feet Dance School in Carmel. Each class has a maximum number of students, so they won't get so large that students can't benefit from focused interactions with teachers. Happy Feet classes focus on ballet, jazz, hip-hop, and lyrical dancing. They start in early January and last until June. Then, a significant recital takes place to show off their new skills.
Building coordination, concentration, teamwork, and self-esteem is central to the mission of Happy Feet Dance School. The school also helps kids experience the joy of dancing. Classes take place Monday, Tuesday, Wednesday, and Friday from 3 to 7 p.m. and Thursday from 6:30 to 8 p.m. Children from 3 to 18 years old can attend.
Dutchess School of Performing Arts
The Dutchess School of Performing Arts is in Poughkeepsie, about 40 minutes away. It's a premier school that focuses on professionally executed dance instruction. The ballet faculty serves children and young adults from 3 to 18 at introductory, advanced, and pre-professional levels. The courses focus on the most well-known forms of ballet globally and help dancers move toward the professional level with grace and poise. Contemporary dance classes focus on rhythm, speed, and solid but refined torso and leg work.
The school's rhythm tap classes teach a wide range of ethnic dances that focus on percussion from the Caribbean, South American, Central American, and African sources. The music in these classes varies greatly but centers around jazz.
One of the rarest options on the class list is traditional Irish step dancing. It requires high stamina, a rigid upper body, and fast, precise leg movements. Classes range from $175 to $300 depending on their length and focus, though prices change. You can visit from 3 to 9 p.m. Monday through Friday and from 9 a.m. to 2 p.m. Saturday.
The Pinewood School of Dance
The Pinewood School of Dance is in Stormville, about 20 minutes away from Carmel. It's dedicated to providing an exceptional level of dance education. Preschool-aged students attend one-hour classes that teach ballet, tap dancing, and tumbling. Kids from 5 to 7 can take one-hour courses in ballet, tap, jazz, or a combination of all three. Students 8 and up can take one-hour classes in jazz, tap, ballet, hip hop, or modern dance. The half-hour pointe ballet classes are also available.
This dance school sometimes lets students who show a remarkable aptitude for their favorite form of dance move to more advanced classes earlier than usual. A $25 registration fee is required for signup. What's more, the more courses a student attends per week, the cheaper each class becomes. One class per week is $16; two cost $13 per class, three go for $11 per class, and four commands $9 per class.
The Pinewood School of Dance is open from 4 p.m. to 9 p.m. Monday through Friday and from 9 a.m. to 1 p.m. Saturday. They'll perform The Nutcracker to celebrate the John Jay High School holidays on December 4 and 5.
Each of these dance schools builds up the talents of preschoolers and young adults, influencing students' artistic expression and execution along the way. Dance classes are also great for improving coordination and giving kids an opportunity to exercise and stay in shape. Did we miss any of your favorite dance studios in the area? What classes do your children love most? Contact us and let us know which establishment you like best.