9 Scenic Spring Day Trips from Carmel, NY
With warmer weather on the horizon, you might be ready to take a day trip with your friends or family. Day trips are perfect for those who need a getaway or a fun weekend without having to make extensive travel plans. Read on to learn about several day trip ideas that you can use to get inspired for your next day trip in your new vehicle or used car from Carmel, New York.
Albany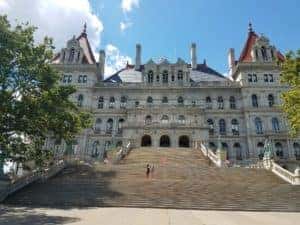 The New York state capital, Albany, is filled with history, heritage, and new traditions. There are plenty of excellent shops and restaurants to visit on your day trip, along with popular attractions. These attractions include the New York Capital building, the Albany Institute of Art, the Hudson River, and the New York State Museum. The drive to Albany from Carmel is only around two hours, leaving you plenty of time during the day to explore the capital city.
Bannerman Castle
First constructed in 1901, Bannerman Castle is an abandoned castle-themed warehouse in ruins. Bannerman Castle is located near the Hudson River and is just a 30-minute drive from Carmel. The 5-acre island Bannerman Castle rests on has only had five owners since the American Revolution, highlighting its rich history. You can go kayaking around the island, take self-guided tours, and even attend themed dinners and parties at this Pollepel Island location.
Beacon
Beacon, New York, is a unique city with many contemporary art exhibits, restaurants, and nightlife. If you're interested in the arts, this is the perfect city to visit on a day trip. Beacon is only about t30 or 40 minutes from Carmel and has several art galleries and shops. One of them is Dia Beacon, a world-class contemporary art studio that features art from the 1960s to the present day.
If you enjoy hiking, you'll want to visit the Mount Beacon trails, where you can walk to the mountain for breathtaking views. For more adventures, you might explore the ruins of the Mount Beacon Casino and Beaconcrest Hotel, which were both built in 1926 but have since been abandoned.
Catskill
Catskill, New York, is a small town in the Hudson River Valley made famous through literature and art. The city served as a muse for Thomas Cole, a 19th-century American landscape painter, and was the setting of many of Washington Irving's works, including his famous short story Rip Van Winkle. It may take about an hour and a half to drive to Catskill from Carmel. Significant attractions in the town include the Hunter Ski Resort, Catskill Mountain, and Main Street, which features Victorian-style homes, historic churches, and a Greek-inspired courthouse.
Crailo State Historic Site
If you're interested in American history, you might want to take the two-hour drive to the Crailo State Historic Site. Crailo State Historic Site is a Hudson River Valley museum located in Rensselaer, New York. This museum features exhibits that focus on Dutch colonial history to emphasize the local culture and history of the area.
This location is home to the historic 1700s Rensselaer house, also commonly referred to as the Yankee Doodle House. In the 1900s, the home was remodeled to be a school for boys, and in 1924, the house was donated to the state of New York to serve as a museum for the public.
Hudson
Hudson, New York, is located along the Hudson River. While it started as an industrial city, Hudson is now home to artists and collectors. It's only about an hour and a half from Carmel to reach Front Street, where you can find many shops that sell collector's items, such as 20th-century antiques. If you love architecture, Hudson is a great place to see the beauty of Victorian architecture. Here, you can also view townhomes from the 18th century.
If you make your trip in May, you can also attend the Design Hudson Showcase. This event includes tours of historic homes in Hudson and showcases local artists and designers by displaying art and furniture designs in homes. You can also take a walk down Warren Street and find many small businesses where you can buy art or furniture featured in the homes.
Hyde Park
Hyde Park is in Hudson Valley, just an hour away from Carmel. Here, you can tour President Franklin Delano Roosevelt's home, Springwood, and explore the Roosevelt-Vanderbilt National Historic Site. This site includes Val-Kill, Eleanor Roosevelt's residence, and the presidential library and museum. The museum has exhibits to learn more about the mansion's staff and Roosevelt's involvement with the community. It's a great place to learn about American history but can also be an excellent destination for architecture enthusiasts since the homes were built in the 20th century.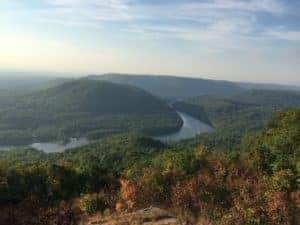 You can also walk around the 211-acre property through beautiful Italian gardens. There are also dining options on the property so that you can stay for dinner.
Minnewaska State Park Preserve
Are you looking for a great day outdoors with friends and family? Minnewaska State Park Preserve in Ulster County is only an hour away and offers many fun adventures. You may appreciate the scenic view of Lake Minnewaska from the Shawangunk Mountain ridge. While you're here, you can go rock climbing, hiking, scuba diving, or bicycling. There are also bird conversation areas where you may see owls or warblers. If you'd like an extended stay to pursue more activities at the lake, there are campgrounds with showers and restrooms available to the public.
Mohonk Mountain House
The Mohonk Mountain House is a national historical landmark turned into a resort. It's located inside a Victorian castle and has a lot of activities to offer to guests, including hiking trails, a spa, horseback riding, swimming in indoor pools or on Mohonk Lake, and fine dining. There are also golf courses and boat rides available to guests. You can make a day trip here or book a more extended stay. For a more secluded getaway, you can stay in nearby cottages that offer the same luxuries as the mountain home.
Do you have a favorite place near Carmel we missed? Contact our team to discuss activities or your vehicle needs. There's so much to do near Carmel, New York, and if you're planning a trip, be sure to schedule maintenance on your vehicle to ensure safe travel. Our service team can address any repairs or tune-ups needed.