5 Best Places for Camping Around Carmel Hamlet, NY
Going camping can be an excellent opportunity to enjoy nature and create fun memories with your friends and family during the warmer months. Sitting by a flickering campfire, going on hikes through the woods, sleeping in a tent, and simply taking in the great outdoors are great ways to spend a camping trip. The picturesque Carmel, New York, area has a variety of excellent camping spots to check out. Here are five of the best places to pitch your tent in and around Carmel.
Clarence Fahnestock State Park Campground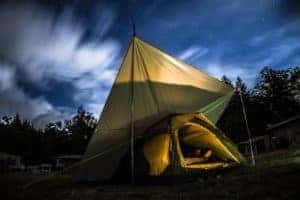 Clarence Fahnestock State Park in nearby Putnam Valley contains a scenic campground that sits right along the park's natural rock ridges. On the campground, you'll find a nature center having many unique environmental displays and touch boxes for the kids. During the weekends, the park's staff lead campers on hikes through the surrounding woods and allow them to participate in a number of fun activities. In the summer months, campers can hit the sandy shores of Canopus Lake and soak in the sun or indulge in a picnic at one of the nearby picnic tables.
Stillwater and Canopus Lakes also offer campers plenty of fishing opportunities during all seasons of the year and the park's four different ponds. Campers can sit by the water and try their luck at catching a variety of fish, including rainbow trout, perch, pickerel, or bass. Rowboats and kayaks are also available for rental for families yearning to get out on the water. Each campsite contains its picnic table, fire ring, and barbeque grill, perfect for cooking burgers and grilling chicken.
Agatha A. Durland Scout Reservation
If you have a child involved in scouting, you can book your next campsite at the Agatha A. Durland Scout Reservation near Clarence Fahnestock State Park in nearby Putnam Valley. The campground contains a total of three large cabins, six smaller cabins, and a variety of sites to set up tents and lean-tos. The 1,400-acre property includes two lakes for swimming, boating, and fishing. Campers can also enjoy access to a gaga pit, geocaching, and a fire ring.
A total of 18 miles of nearby trails are also available to campers interested in getting some steps in, including a path connecting to the famous Appalachian Trail. Each trail contains a variety of terrains for all different hikers. More adventurous campers can also check out the old graveyard hidden in the woods and look for the grave of a Revolutionary War soldier.
Malouf's Mountain Sunset Campground
For a more upscale, resort-like camping experience, you might enjoy Malouf's Mountain Sunset Campground in the city of Beacon. The camping season runs from the end of April through October, and there's a two-night minimum stay requirement for weekend campers. Nestled away in the Beacon woods, the campground is just a short ride from the nearby city and offers campers the chance to backpack into camp on their own or take a nearby shuttle.
Campers choose between two different types of campsites: a platform site that offers a little extra shelter and comes with a variety of cooking equipment and a more primitive campsite for campers who already have all of their equipment and gear. The campground also boasts a well-equipped bathroom with hot showers and toilets and sinks. Wi-Fi is available in the campground's common area.
Malouf's Mountain Sunset Campground additionally offers a meal delivery service for campers who don't feel like cooking. The service includes breakfast, lunch, and dinner. During the day, campers can enjoy hiking, kayaking, fishing, or participating in the activities happening within the campground.
California Hill State Forest
If you're interested in a more primitive, back-to-nature camping style, California Hill State Forest in Putnam Valley allows for primitive campsites as long as they're at least 150 feet away from the nearest trail, road, or body of water. A permit from a forest ranger is also a requirement for campers planning to stay for longer than three days. The 982-acre forest includes the 94-acre Waywayanda Lake, a perfect destination for boaters, fishing enthusiasts, and canoeists. A variety of fish makes the lake a trendy fishing spot, including black crappie, brown bullhead, largemouth bass, bluegill, etc.
California Hill State Forest also allows hunting during the appropriate hunting seasons. Sought-after game species include pheasant, turkey, whitetail deer, rabbit, and squirrel. Besides hunting and fishing, the area is a great location for birdwatchers and wildlife enthusiasts because of how undeveloped and isolated it is. During a hike along the forest's 1.92 miles of trails, campers can look out for wild turkeys, cottontail rabbits, ground squirrels, and other small animals.
Ward Pound Ridge Reservation
At 4,315 acres, Ward Pound Ridge Reservation in Pound Ridge is Westchester County's largest park. The campsites and bathrooms are open from May through October. The beautiful wooded area is perfect for campers who desire a little more privacy in a natural setting. Its unique terrain includes a blend of second-growth hardwood forest, grassy meadows, lush wetlands, ravines, rocky outcroppings, and ravines. There are also several picnic areas, perfect for families wanting to grill out.
Kids will enjoy the park's Trailside Nature Museum, home to a vast collection of mounted animals, Native American artifacts, hands-on environmental exhibits, artwork made from nature, and interactive displays for younger children. The museum hosts interpretive nature programs during the weekends, sure to appeal to all ages. While the park prohibits swimming, the available fly-fishing area at the park's Cross River offers a fun opportunity to catch various fish.
Our team at Meadowland GMC hopes you enjoyed our list of the five best places to go camping around the Carmel area. Is there a favorite place you and your family like to go camping that we didn't include? Let us know by contacting us online or calling us at 855-482-1782, and we'll be sure to add it to our list. In the meantime, feel free to browse our inventory to check out the new trucks, SUVs, and vans we have to offer. We also provide a variety of special discounts to those who qualify.