Best Karaoke Bars in Carmel, NY
Karaoke can make anyone feel like a star, up on stage, singing to your favorite artists' top songs. The Carmel area offers a plethora of karaoke bars for you to choose from, where you can sing to your heart's content. The Meadowland GMC team has stopped by a few of these hot spots to determine Carmel's top seven karaoke bars.
Karaoke City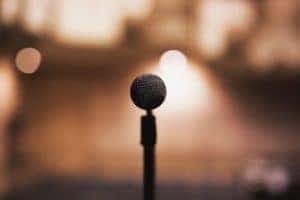 When the bar has karaoke in its name, they take their karaoke events seriously, and that's true for Karaoke City, midtown Manhattan's largest karaoke experience. At Karaoke City, you can rent a private room, complete with state-of-the-art karaoke equipment and modern finishes. You'll also enjoy a full-service bar for your convenience and updated playlists each month.
For one to five people, you'll pay $40/hour per person, with each additional person just adding $8/hour, so the more friends you bring, the less per person overall. Karaoke City offers room reservations between 1 p.m. and 4 a.m. daily. Karaoke City is located at 22 W. Thirty-second St. on the 7th floor in New York.
Sing
Sing also offers rooms to rent for private karaoke events with your friends, along with a full-service bar offering happy hour until 8 p.m. every day. Standard rates for a private room are $10/hour per person for two to 20 people, with a minimum of three people required on the weekends. You can also book a VIP room for 25 to 40 people on Friday and Saturday at $250/hour.
The Happy Hour rate for private rooms is $5/hour per person, with the VIP rooms at $125/hour for 25 to 40 people, up until 8 p.m. every night. Choose from 14 different rooms of varying sizes. Sing Sing is located at 81 Avenue A in New York.
Iggy's Karaoke Bar
Established in 1995 by Iggy Hughes, Iggy's Karaoke Bar is an upper-eastside hot spot with 14 flat-screen TVs with Direct TV and Time Warner, wooden floors, stylish ceiling fans, 24 tap beers, four beer towers, and karaoke on the stage at the back of the room. Iggy's is open seven days a week, 365 days a year, with special events happening all the time.
You can sign up for open mic comedy on Mondays, be a guest bartender on Tuesdays, and enjoy Hospital Happy Hour on Wednesdays. Join Iggy's for Ladies Night on Thursday with half-price cocktails and shots for the ladies, enjoy free hot dogs and happy hour on Sundays, and dance and party all night long on Friday and Saturday. Iggy's is open from 1 p.m. to 4 a.m. daily at 1452 Second Ave. in New York.
Imperial Pool & Karaoke
Meadowland GMC invites you to visit Tappan's newly renovated sports bar and pool hall that offers reasonable rates for pool games and karaoke. You can also enjoy authentic Korean foods and refreshing beverages at Imperial. Book a private karaoke room to eat, drink, and sing with your friends and family. Karaoke room rates are $30/hour for up to four people with an additional $5 per person over four, or $180/hour for 18 to 30 people. Imperial Pool & Karaoke is open Tuesday through Sunday from 4 p.m. to 2 a.m. at 64 Route 303.
Karaoke One7
Located at 29 W. Seventeenth St. in New York, you'll find Karaoke One7, a full bar with private karaoke rooms. You pay $2 per song at the full bar, or you can rent a private room with standard rooms at $9/hour per person, and party rooms are available for $180/hour. Standard rooms accommodate three to 30 people, while the party room hosts up to 100 people.
Karaoke One7 also offers Happy Hour pricing on the standard rooms until 8 p.m. every day for just $4/hour per person. Karaoke One7 is open Monday from 5 p.m. to 4 a.m. and Tuesday through Sunday at 2 p.m.
100 Fun
100 Fun opened in the summer of 2005 and has quickly become one of the most oversized karaoke bars in Brooklyn, offering 45 private rooms and a vast selection of music. You can enjoy a selection of English, Japanese, Korean, Cantonese, and Mandarin hits. 100 Fun is open from 2 p.m. to 4 a.m. daily, with a requirement of 21 and up only after 6 p.m.
Mini rooms accommodate four guests at $20/hour Sunday through Thursday and $40/hour Friday and Saturday. The small room fits five people and is $25/hour Sunday through Thursday and $50 Friday and Saturday. Medium small rooms are suitable for six people at $30/hour Sunday through Thursday or $60 Friday and Saturday. The medium room fits eight people for $70/hour daily. You can rent the large room for up to 15 people at $100/hour, the VIP room for 25 guests at $150/hour, or the Super VIP room for $200/hour for up to 35 guests.
Radio Star Karaoke
At Radio Star Karaoke, you'll enjoy rare antiques that provide a nostalgia for you to unwind and relax in the bar and lounge. Those who dream of superstardom can take the stage equipped with a sound and lighting system to make you sound impressive to your friends and family. Radio Star Karaoke also offers private rooms for those who want to party with a smaller group as they sing their hearts out.
Nine private rooms offer options for small to large groups at varying rates. Whatever your karaoke needs, Radio Star Karaoke is sure to have something for everyone. You'll find them at Three W. Thirty-fifth St. in New York, open from 5 p.m. to 4 a.m. Friday and Saturday, closing at 2 a.m. Tuesday through Thursday.
The Meadowland GMC team sure had a lot of fun checking out the karaoke bars in the Carmel area, but we won't divulge whether or not any of us took the stage. If we missed your favorite karaoke bar, reach out to us at 877-671-6845 or via our secure and convenient online contact form. We'd love to go out on the town again to check out your karaoke spots.