Best Drive-In Theaters around Carmel, NY
For a magical evening of cinema under the stars, consider stepping back in time by stopping by a drive-in movie theater. This nostalgic experience gives families, couples, and groups of friends a chance to watch classic or modern films on a big screen from the comfort of their vehicle. With spring coming soon, the drive-in season is about to be in full bloom. At Meadowland GMC, we want you to make the most of your time in Brewster and we want you to enjoy the perks of your new vehicle or pre-owned ride, too. Read on to learn more about the best drive-in theaters around Carmel, NY.
Four Brothers Drive-In
One of our team's favorite spots to visit on a warm spring/summer night, Four Brothers Drive-In has mastered the modern drive-in experience. With shows 7 days a week from Spring through the Fall, you are bound to find a movie night showing something for you. The Theatre design is based on family, entertainment, and creating memorable experiences. The Four Brothers' works had to be a pillar of the community by promoting locally sourced foods, unique services, and amazing amenities. The group's passion is, "It's not what is done, but how it's done" this gives you an indication of the attention to detail that goes into each part of their drive-in theatre. If you have a minute, ask them about their parking system to ensure that every patron has an enjoyable viewing experience!
Pleasant Valley Drive-In Movie Theater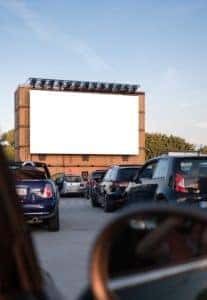 Opening back up in early March, the Pleasant Valley Drive-In Movie Theater is about to be your new favorite seasonal attraction. Located in Barkhamsted, this iconic spot plays films on a 3-acre section of land near the Farmington River. With room for 250 cars on the busiest evening, this is the place to be on a warm Friday night.
The theater usually operates on weekends from early spring to fall. In the peak summer season, Thursday is carload night, where tickets for a whole car are only $20. After Labor Day, carload night switches to Fridays. Admission is regularly $10 for adults over 13, $5 for children aged 6-12, and free for children aged five or younger. Be advised that these prices are cash only. Leashed pets are also allowed in the theater area, so you can truly bring the whole family for an evening out.
Once the season begins, you can check the theater's websites for the available films. Gates open at 6:30 p.m., and the film starts 30 minutes after sunset. You can enjoy a second film after a brief intermission. Come early to get a good spot, grab some snacks and beverages from the concession stand, and meet movie lovers from all over your state. Once the movie starts, you can turn your radio to the proper station to hear the film's sound. Showings are rain or shine, so plan accordingly for this engaging night of movie magic.
Cinema Under the Stars
For a drive-in event with a little bit of local flair, check out the Farmington Polo Club's Cinema Under the Stars events. This Friday night movie and concert series hosted by the iconic polo club is a perfect excuse to get out of the house during the summer. Each event features food trucks with a rotating selection of delicious meals and treats to engage taste buds of all ages.
Although this year's season has not yet been announced, last year's began on June 4. Typical events run from 6 p.m. until 10 p.m., and you can arrive early to take in the festival atmosphere. Tickets are $10 for adults and $6 for children. Keep checking the polo club's website and newsletter for updates on the upcoming season.
Stamford Museum and Nature Center Drive-In Movie Nights
Hosted by the famed science center, the Stamford Museum and Nature Center Drive-In Movie Nights offer a great opportunity to see your favorite museum in a new light. Spend your summer Friday nights watching family-friendly gems in the museum's parking lot. Gates open at 6 p.m., and if you come early, you can enjoy wandering Heckscher Farm before the show starts at dusk.
For nourishment, enjoy signature snack boxes with popcorn and candy for preorder and peruse a collection of food trucks once parked. Admission is $40 for up to two people and $60 for three or more people, with proceeds going back to the museum's mission. Tickets must be purchased in advance. As the summer season gets closer, visit the museum's website for more information about films and dates.
Mansfield Drive-In Theater and Marketplace
If you want to do a little shopping with your movie watching, spend a day or weekend exploring the Mansfield Drive-In Theater and Marketplace. On Sundays, look for treasures at the theater's massive flea market, reopening for the season on March 22. From 8 a.m until 2 p.m. you'll have your pick of over 15,000 feet of vendor space, indoors and outdoors, rain or shine.
Beginning April 1, the drive-in will open for weekend new-release movies. As the season advances, you can expect more hours, with Wednesdays offering a $26 flat rate for each vehicle. Tickets are usually $12 for ages 12 and over, $9 for children 4-11, and free for children under 3.
When you buy a ticket at this theater, you get to watch two films, and there's a 10-minute intermission in between. This is a perfect time to check out the 50s-inspired snack bar, which serves traditional movie fare like drinks and popcorn along with fun surprises like clam fritters. Pets are allowed in the drive-in, but not in the flea market. Bring your whole squad to this Mansfield theater tradition.
Remarkable Theater
Westport's own Remarkable Theater began with a simple mission: to bring theater to the local community while employing people with disabilities. Today, this drive-in theater plays classic, new, and indie movies right on the Saugatuck River. After navigating to the theater area with your pre-purchased ticket, volunteers and employees will help you find your perfect spot for the film.
Although the theater doesn't offer food or drinks, they encourage you to bring your own, especially if it supports the excellent local Westport restaurant scene. While films will play in light rain, expect to reschedule for heavy rain or other weather conditions. If you want to engage with the Westport arts scene and support those with disabilities all while enjoying a great movie, the Remarkable Theater would be a remarkable choice.
So, there you have it. Meadowland GMC just listed five of our favorite drive-in theaters for an enchanting movie night around Carmel, NY. How did you find our list? Are there any theaters we forgot? Which movie are you most excited about seeing in your new GMC ride? Contact us today to let us know how we did. You can also check out our hours and directions page to locate our showroom and plan your visit. We can't wait to meet you!